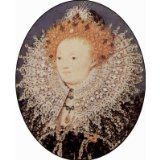 This section of the website consists of lists of gifts given to Queen Elizabeth as presents at New Year's celebrations, from The Progresses and Public Processions of Queen Elizabeth. I have attempted to remain faithful to the spellings used in the original inventories.
These lists are useful for artisans and craftspeople (especially those interested in 16th century English reenactment/recreation); there are detailed descriptions of garments, lace, embroidery, jewelry, and even food items. In order to provide a more complete picture of the items described in the inventories, I have cross-referenced them with links to related pages elsewhere on this site; I am also working on linking to the gift-givers' biographies.
Who's who? See Who's Who in Tudor History and Ladies of Honour.
What's what? The Elizabethan Costuming Page has a useful Overview of an Elizabethan Outfit, and Color in Elizabethan Dress.
Additional reading: