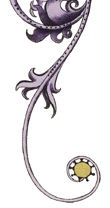 My husband, Meistr Gruffudd ap Cadfael, and I live in the Barony of Stierbach in the Kingdom of Atlantia, along with our son, Alexander ap Gruffudd ap Cadfael.
I joined the SCA in August 1992 at the College of Boethius in the Kingdom of Caid. My device is Argent, in pale three strawberries proper between flaunches gules.
I have one protégée, Lady Amie Sparrow. Former protégée Mistress Alina Silverthorne is now a member of the Order of the Laurel.
I maintain a few other websites, including Early Music DC and the Washington Early Music Festival. I do a lot of development of online material culture resources, including some for the 18th century. To find the latest developments on the website, and other interesting news, visit this Facebook page.
---
Awards
Order of the Laurel, July 22, 2006
Holder of the Dreamer's Cup of the Barony of Stierbach, January 26, 2004
Order of the Pelican, November 2, 2002
Undine, September 8, 2001
King's Award of Excellence, April 7, 2001
Order of the Golden Dolphin, May 13, 2000
Order of St. Roch of the Barony of Stierbach, November 20, 1999
Order of the Pearl, July 10, 1999
Augmented Bead of the Barony of Ponte Alto, November 9, 1996
Award of Arms, February 25, 1995
---
Offices
Museums columnist for Tournaments Illuminated, since April 2007.
Kingdom Minister of Arts and Sciences, January 2005 to March 2007.
Deputy interim editor of The Oak, 2004-2006.
Chatelaine of the Barony of Stierbach, January 2001 through January 2005. Stierbach was recognized for having the Best Newcomer's Program of the Year in March, 2002.
Editor of The Compleat Anachronist, autumn 2000 through autumn 2003.
Charter Member of the Atlantian Embroiderers' Guild; I coordinate various projects and activities, but mostly, I'm the website maintainer, and I design patterns for some of the guild's group projects.
Chronicler of the Barony of Stierbach (10/98-10/00). The Bull was nominated for a Master William Blackfox Award for layout and design in August 2000. I also served as the baronial webmaster for a few months during that time, and again for a few months in the late summer of 2002.
Editor of Gusti i Fatti in 1997 and 1998 (arts & sciences annual issue for Ponte Alto). I received a Master William Blackfox Award in August 1998 (for best article in a newsletter); the issue was also nominated for best special issue of a newsletter.
Deputy to the Minister of Arts and Sciences of the Kingdom of Atlantia (8/97-2/01, and on an interim basis from spring to autumn of 2001, and again since around 2008).
Seneschale of the Incipient College of St. Stephen (1/95-8/96)
Seneschale of the College of Boethius (6/93-8/94)
---
Articles in SCA Publications
---
Events Autocratted
The Birthday Bullfights (deputy autocrat) of the Barony of Stierbach, June 2000
University of Atlantia XL (site coordination autocrat) St. Stephen/Atlantia, June 1996
Collegium Borealis (site coordination autocrat) St. Stephen/Stierbach/Ponte Alto, July 1995
Festival of the Rose, Boethius/Caid, April 1994
---
Classes Taught
Doing Research: A Panel Discussion (with Jadwiga Zajaczkowa and Nicolaa de Bracton, Pennsic 34; and again with Jadwiga at Pennsic 35)
Design Your Own "Oxburgh Hangings" (University of Atlantia LXIV)
Demystifying Documentation (Kingdom Crusades 2004)
On Courtesy (excruciatingly boring class on medieval etiquette taught at University of Atlantia LIX)
Klosterstickerei: German Figural Embroidery in the 14th and 15th Centuries (University of Atlantia LVIII)
Pattern Darning (University of Atlantia L)
Goldwork and Metal Thread Embroidery (with Branwen Madyn Wallis, University of Atlantia IL)
Bayeux and Beyond (University of Atlantia XLV, University of Atlantia XLVII, and "Love & War: Unto the Gates of Hell")
Cross Stitch for Beginners (University of Atlantia XLIV)
Embroidery for Beginners (with Roxanne Greenstreet, University of Atlantia XLV)
Subtext in Stitches: Symbolism and Metaphor in Period Embroidery (University of Atlantia XLV)